Pakistani public reaction on ISPR song is going against the Pakistan Army. People on social media taunting ISPR and making extreme comments on the institution. Putting their disappointing words on social media may become a good day for India.  As they already want to see Pakistanis hate their Army. It can be a good day not only for India but all other anti-Pakistan countries who are putting this Anti-PakArmy Narrative.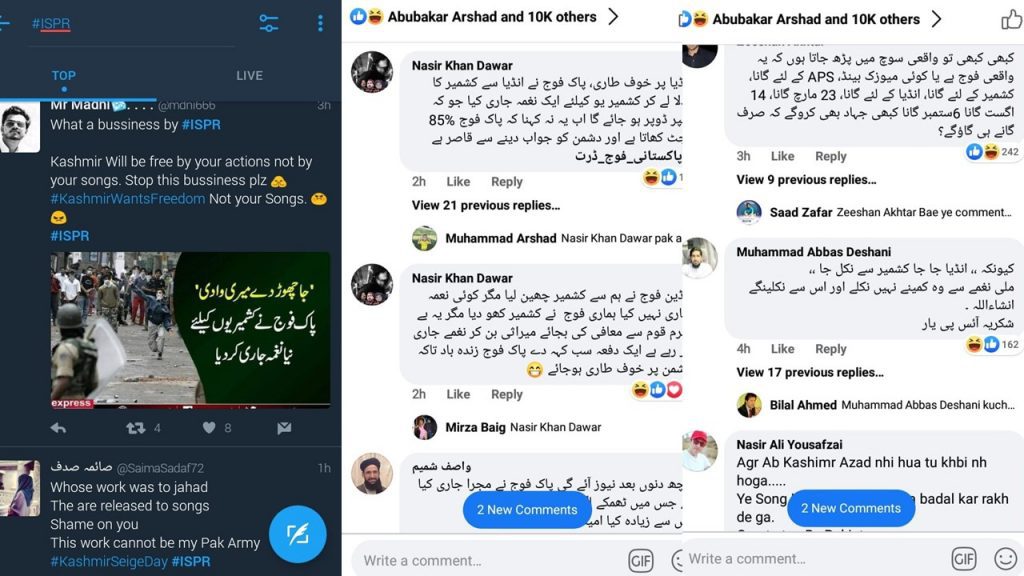 The fifth-generation warfare in the world works more than weapons. As superpower had done to Iraq and Syria.  Making the public against the state and destabilize the country.
Search on google about Indian movies made on their army and what narrative they have given in the stories. By showing Pakistan a terror exporter in movies? You have recently come to know that the UN (United Nations ) declared that India is doing terrorism in Pakistan through Afghanistan.
Their Army afraid of facing Pakistan's Army in the battleground. But their movies make their public happy. Do you have any idea how much India spends on media to represent their army as best against Pakistan and China?
What does the Pakistani public want? A Full-scale war?
People need to understand that if two nuclear countries start a war in this era, millions of lives will be at risk. Pakistan's Army knows how to defend and how to take steps to achieve the target.
If Pakistan Army never disappointed you ever, then you should not disappoint the struggle of soldiers who are giving their lives on the border and against terrorists. Pakistan's army carried operations to eliminate terrorism in its country. Giving you a peaceful place to live.
Pakistan people should be thankful that we have a Strong Army which not only ensures the security of its own country but also for the Holy places of Muslims. ( Makkah & Madina).
ISPR released a song on Kashmir on completion of 1 year of lockdown imposed by the Indian government. In this song ISPR praising the struggle of Kashmiris against India's illegal occupation since they pulled out of 370 and 35-A article. The song shows the brutality of the Indian Army and
Kashmiri People under siege since 5th, August 2019. Kashmiri People living in miserable situations. A year of lockdown and silence of International forums. Urging Kashmiri freedom activists to stand for their rights.
If you have any questions about the post comment below. If you like it then share it with your friends.| Pakistani public reaction on ISPR song