Pakistan Medical Commission PMC blacklisted Kyrgyzstan medical colleges and universities. PMC in its 1st council meeting held on 3 Oct. 2020. PMC discusses the International Admissions and said, students seeking admissions in foreign medical institutes currently would be doing at their risk and cost pending verification of these foreign colleges.
PMC made a decision on a report from Pakistan Embassy in Kyrgyzstan, that all medical colleges in Kyrgyzstan are currently placed on a restricted blacklist, and degrees awarded shall not be considered by PMC as valid for the purposes of grant of a license to practice in Pakistan.
There are many other decisions made regarding upcoming admissions. Admission in affiliated medical colleges of NUMS shall be carried out on merit on basis of the NUMS entry test being conducted by NUMS on 11th October 2020. Similarly, Agha Khan medical university admission will be conducted by their prospectus and conditions while the MDCAT is mandatory to pass for admission.
Admission in Private medical colleges will be conducted through a centralized automated system, strictly on merit base with MDCAT giving 50% percentage to MDCAT and secondary high school qualification.
Read more; PMC blacklisted Kyrgyzstan Medical colleges and universities|PMC Meeting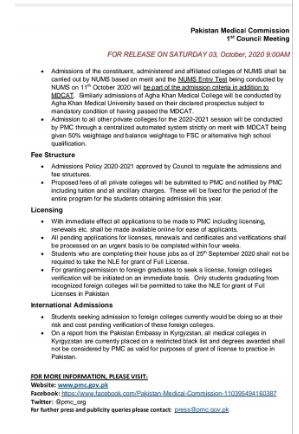 PMC blacklisted Kyrgyzstan Medical colleges and universities|PMC Meeting