In Pakistan's largest city, Karachi, a passenger plane crashed in the populated area minutes before Friday afternoon, destroying several buildings on both sides of a narrow street. Almost killing 100 people. Here are the international media headlines on their newspapers and websites | International Media on PIA Plane
BBC calling it the worst airline disaster of 2020.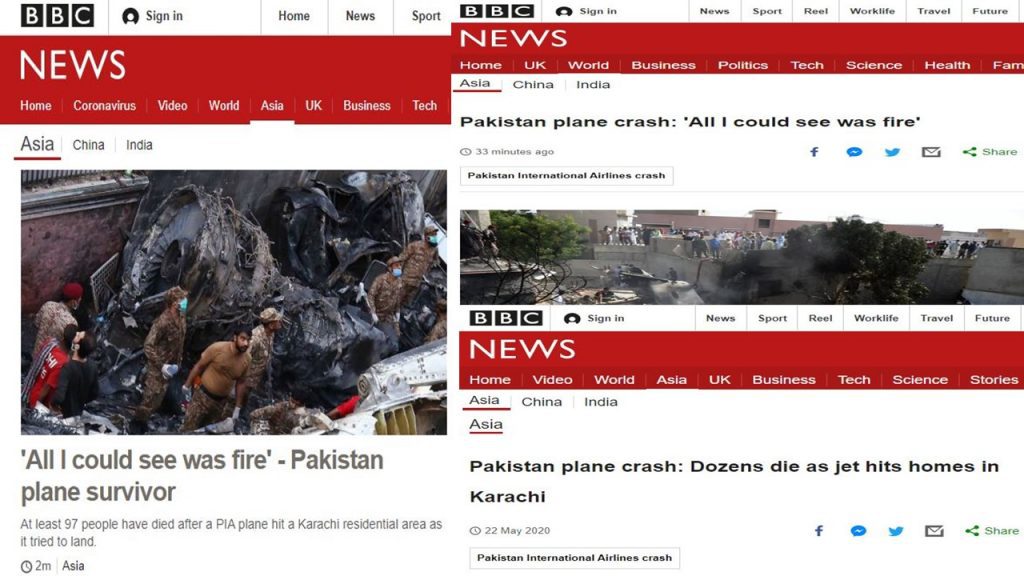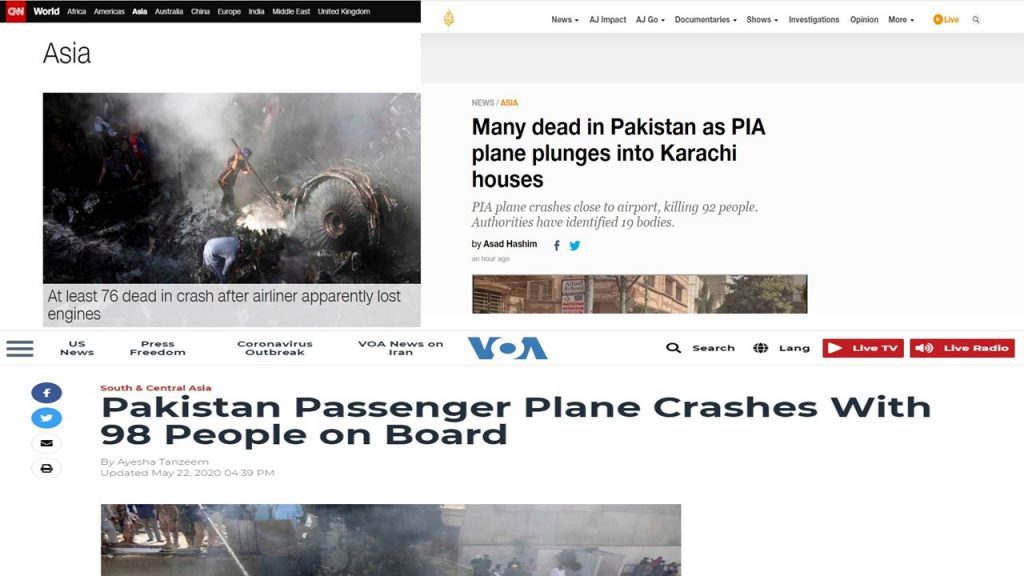 At least 97 people have died after an Airbus A320 passenger plane crashed into a residential complex near the airport in the southern Pakistani city of Karachi, officials said.
Already in the hot afternoon, the accident made it difficult to rescue the narrow streets of the surrounding sand, as well as large reservoirs of dust, smoke, and heat.
As darkness came late Friday, the crew worked under the field light to continue their search. The provincial health department said it had recovered 57 bodies. It may take several days to find all the dead, officials said. | International Media on PIA Plane
At least two people on board survived, the Health Department said. It is not clear how many lives were lost on earth.
Immediately after the accident. After that, several civil and military aid agencies reached the spot. Ambulances of NON-government aid agencies can be seen pulling the injured out. The crowd of locals also gathered around the place.
National Carrier Pakistan International Airlines Airbus A320 was on its way from Lahore to Karachi when the model crashed in the colony.
The plane appears to have been trying to land two or three times before it crashed into the poor and heavily crowded area, eyewitnesses said.
Pakistani Prime Minister Imran Khan tweeted that he was shocked and sorry about the PIA incident. … An inquiry will be launched immediately. Prayers and tributes to the victims. | International Media on PIA Plane
The plane had a capacity of about 160 passengers, but the numbers were kept low due to the social distance guide letters attached to the novel Coronavirus.
Pakistan has a mixed civil and military aviation safety record. In the past years, there have been several aircraft and helicopter crashes, including the 2016 International Airline plane crash that killed 40 people. The most deadly accident happened in 2010, when an airbus, a private aircraft, carrying an Air Force A321, crashed and killed all 152 people on board.
Friday's accident occurred when many Pakistanis were returning to their homes to celebrate the end of Ramadan and Eid al-Fitr, which breaks their fast. International Media on PIA Plane | International Media Headlines
Read More;