Many of the students are worrying about their future and looking for online best courses. You can " Get Free Coursera certificates in Pakistan". Unlimited courses of World's Top universities. Easy and step by step process is given here;
If you are willing to get free Coursera certificates in Pakistan. If you want to taste the method of teaching and study material of the foreign universities. Here, I'm going to tell you how will you get your free certificate from Coursera in Pakistan and Utilize your time during the lockdown in awake of coronavirus pandemic.
PDF view of the certificate click here; PDF Coursera Certificate
Free Coursera Certificates in Pakistan
Go to your browser and open the website www.coursera.org Then click on Join for free. Here you have to sign up through your Email. Please write your good name as I'm ALI RAZA. I wrote this. Then you have to select the categories of your interest like Businesses includes Finance, Marketing, HRM, entrepreneurship, Information Technology, Data Science, etc, of different International Universities. Choose some categories and go to the next.
First, complete your profile like a profile photo. After this go to Explore feature and find your course which you want to study. Click on that course. You will see some courses are just a single course and some in the form of a specialization course. A specialization course includes its sub-courses. When you click on the course you will see a button Enroll and just aside of it. You will see the line written financial aid available click on it and then go to the process for applying financial aid application.
Financial aid Applying process
Here is the step by step process of applying financial aid for a course. First, you have to select or choose the course which you want to study and want a certificate after completion, For example in the following process, I have selected an IT course on Game Design and Development. It is not a single course, It is a specialization, You can open and apply for the single course of this specialization or it will automatically enroll you or receive your Financial aid application for the first course of this specialization.
Step #1
For example, you selected the above course, you will see a Financial Aid Available line written just right side of the Enroll button. Click on that line and follow the process.
Step #2
Follow the process generated by the system.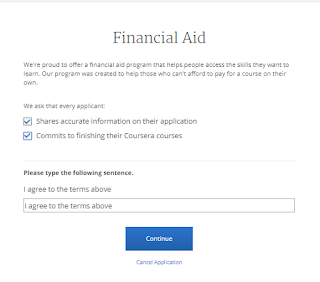 Do the same things that I have done at the above screenshot and click to continue button.
Step #3
Here Coursera will ask you, your annual income and how much you can pay for this course. In the income, the section writes minimum income like 200 annually. But when the question will how much you can pay for this course you have to select $00 And select that you are a student.
You will provide background information like Educational Background choose some college/high school. Then annual income put $200. Employment status Student. Note; But where the question is How much can you afford to pay put 00.
Step #4
Now you have to provide the reason for applying financial aid in two sections. You will give the reason in 150 words for each, and at the last, the system will ask you that would you like to go with the loan facility just click No and provide 3 to 5 words reason like just write No It will be difficult for me. Then click on the submit button. You will receive an Email that your finance application has received. One can apply for more than one course at one time.
Now you have to give the reason why are you applying for Financial Aid. Give 150 words reason. You can use this Passage/Paragraph and can edit it according to the nature of course for which you are applying;
You should edit these paragraphs according to your course whether it is an IT course/Computer course or Business course or any other.
1st. Why are you applying for Financial Aid? ( 150 words)
I have limited resources to get an education in any reputed and highly ranked institutes and universities. My income does not allow me to purchase this course. I cannot afford to pay for this course certificate. But I wish that I study this course. I like this course and institute as well. This is my desire to study the course at this university. It will be an honor for me to get an education online from this institute. If you co-operate with me and offer me a free certificate then I can fulfill my wishes and dreams of getting a certificate from a reputed institute. But again I have not enough money for this course. I belong to rural areas of Pakistan, where there is no quality education. That's why I want to study this course to get a quality education. By considering my budget and limited resources, Please offer me a free certificate so that I can grow my career and career objectives. I am a Business studies student and wish to become a Business analyst and Business Administrator. So I need to study this course. I will be thankful for your kind response.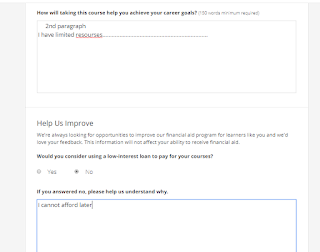 Then you will also give 150 words explanation, How this course will help you in your career.
2nd. How taking this course help you to achieve your career goals? (150 words)
Dear sir, This course about Business and Financial management is very interesting and I want to study it. I want to improve my knowledge of business management, marketing, and financial management. This course will give me a good opportunity to enhance my knowledge. This will improve my business analysis, management skills, and analytical skills. I have to go through the outline of this course and I found it best for me. I will do efforts to complete and implement the knowledge in practice. This will increase the career opportunities for me. The course well designed and have worth knowledge. If you allow me to enroll in this course for free, then I will do my best to understand and complete the course content within time and criteria. I will get satisfaction to do this for free with your permission. This will help to achieve my career objectives. Your corporation will help me to achieve my goals. I will be thankful for your positive response.
Step #5
In the end, it will ask you to go for a loan, But you will select No and write I cannot afford later or something else, As you can see in the screenshot, take an overall look if anything missing then Submit the application.
You have to wait the exact 15 days for its approval. Remember don't go for a trial of that course and don't open the course. Just leave that course for 15 days. During this time you can do ID verification of the user. You can verify yourself by your name and if it will not work then use the following;
ID Verification process ( If ask )
And if the system asks you for photo ID verification. Next is to verify your ID through passport OR National Identity card. Take the photo of your smart ID card ( front and Back) and submit it. Take a selfie of yourself without any filter and submit it. Don't crop the photos. Don't use the Urdu ID card. Just use Passport or English or smart ID card of Pakistan. When you have done all this your ID will be verified and you will be notified.
After 15 days you will receive an Email from Coursera that your financial aid application has approved. Then you can start your course and complete it. Go through the course. Take quizzes and peer-assignments. Achieve a score of 80% and above. You will get 3 to 4 chances at one time if you fail in quiz don't worry. After 8 to 10 hours you will again get 3 to 4 chances. You can easily complete the course and when you will complete the course, You will get your certificate free of cost on the spot. Can download in Pdf and can share it with Linkedin.
That's is the Process to get Free Coursera Certificates in Pakistan
If you have any confusion and problem leave a comment. I'll reply to you. And If you like this article or information share it with your fellows. You can also ask through social links. Thank you!